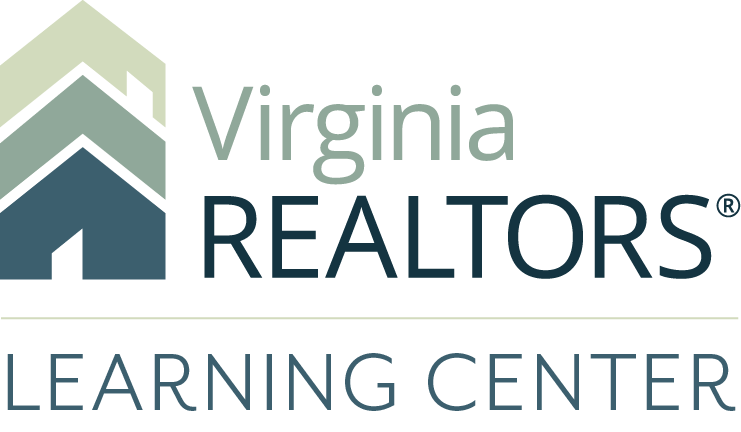 ---
Welcome to our new Learning Center! This easy-to-navigate website serves as a hub for all things relating to Virginia REALTORS® education, training, and events. Here you can review our education offerings, register for classes or events, and download resources from previous events. If you have any questions about how to use the site, please watch this short tutorial video, read the frequently asked questions below, or contact us here.
---
The Basics
How do I log in to the Learning Center?
You will utilize the same login credentials you use for the Virginia REALTORS® website. (Your username will be your NRDS number with no leading zero.)
How do I register for a class?

It's easy! Search our easy-to-navigate course offerings and click the registration button. Simply follow all necessary steps to get you all set to learn.
How can I view what I've signed up for?

Please visit your dashboard to see your upcoming courses.
How do I get a certificate of completion?
At the end of your course, you will have the option to download a certificate. Your records for this course will indicate you have qualified if you have met all of the necessary requirements.
Can I take classes on my phone?
"Can" and "should" are two different things. We do not recommend that you use your phone. Your user experience will be infinitely better via a laptop, desktop, or tablet. For virtual classroom opportunities and live CE courses, you must be visible and on-camera at all times, so please keep that in mind when choosing your device.
How do I track my licensing status?
Please refer to DPOR for licensing information. For a direct link, please go here: http://dporweb.dpor.virginia.gov/LicenseLookup/

1. Enter license number, click Search (Ex. 0225119900)
2. Click Continuing Education tab
What is your cancelation policy for classes?
Cancellation requests for Virginia REALTORS® continuing education classes will be accepted through 5:00 p.m. up to three business days preceding each class. All paid tuition with the exception of a $25 non-refundable/non-transferable deposit will be refunded. No refunds will be given for cancellations made after the close of business three business days prior to the class. Requests for special refund consideration due to extenuating circumstances must be received by Virginia REALTORS® in writing within 7 business days after the class's start date. Please send all cancellation and/or refund requests to education@virginiarealtors.org.
What is your cancelation policy for events?
That changes per event. Please email events@virginiarealtors.org for specific event information.
What are the recommended best practices when attending a virtual classroom event?
Earphones are a plus, for clarity.
Keep your device plugged in so your battery does not die and you don't get knocked out of the class. If it does, you will be counted absent during the time you are not on camera. More than five minutes could result in your being locked out and not given credit. We do not want to "police" you, but we have been given strict guidelines.
We must be able to see you through your camera to certify that you are present. Please ensure that there is enough light in the room and that you are clearly visible.
Please be mindful of your on-camera appearance. We do not judge, but you are on camera!
When the class is over, be sure to select the option to "leave" the meeting.
Can I access my local education offerings from the Learning Center?
Local association education offerings may be displayed in the LMS catalog if the local association chooses to do so. For a full list of your local association education offerings, you should reference your local association's education calendar or website.
Are continuing education (CE) credits submitted to DPOR for me?
Yes. Any approved CE course taken in the Learning Center will be processed for you.
Can I access course materials after the course is complete?
Yes. You may return to your dashboard, access past courses, and access course materials there. NOTE: Courses may be removed after an extended period of time; therefore, we recommend you download your course materials from the Learning Center.
What if I have questions before class?
If you have questions, please reach out to our Education Team.
---
Technical Difficulties
If you do experience technical issues (camera or audio not working only – not Zoom login) that you can't quickly resolve, please contact the Tech Helpline (a member service of the Virginia REALTORS®).

---
Specific FAQs
| Access Date | Quiz Result | Score | Actions |
| --- | --- | --- | --- |
Webinar Programs
Certifications & Designations
Search by Topic Areas